IDGTF is proud to provide a platform to showcase works by women and about women, with a particularly diverse and fascinating programme of works in 2017.
Following on from our general theme of exploring and celebrating identity, the women in these works are discovering who they are – from passion to deep friendship, from artists to criminals, from the voices of young women in modern New York to love in 1920's Paris.
Lesbian, bi, trans, straight, questioning and from around the world … these women have powerful stories to tell.
Week 1 – Mon 1 to Sat 6 May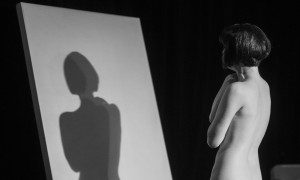 Montparnasse – A tale of love and lust in the bohemian circles of 1920's Paris.  Two Canadian women inspire artists as live art models through their naked beauty and spirit of adventure.
Both Sides Now / Wasting Paper – a double-bill about young women exploring who they are through art.
In Both Sides Now Lydia tries to figure out her life and sexuality armed with some paper, an old guitar and the music of Joni Mitchell.
Leaving Cert year can be crazy for anyone, but for Casey it was the year that changed her life.  Her poetry going viral online was only the start.  Find out in Wasting Paper.
The Possible / Strange Fruit / The Morning After is a 'ménage à trois' of short plays featuring a wedding, a one-night stand and an affair.  In The Possible one women takes drastic action to win over another… But has her scheming gone a bit too far?
Week 2 – Mon 7 to Sat 13 May
The Elephant Girls is the extraordinary true story of an all-female gang in Victorian London.  Gang-member Maggie sits down in a London pub to tell the whole story – desire, violence and an amazing slice of hidden history.  Don't miss this critically-acclaimed gem.
Love Trumps Everything / How We Glow gives you four pieces that explore the experiences of LGBTQ+ women and young people in America.
Love Trumps Everything is a series of short plays celebrating a pioneering woman who dared to break gender norms, the path to legally marry and dating in heaving.
How We Glow brings the real stories of LGBTQ New York teenagers to the stage – their identities, labels and their communities.
… and don't miss Queers – the story of LGBTQ Londoners, including Carol – a teacher during the anti-gay 'Section 28' era and Sapphire – a proud trans woman.